75 Washington Street
Plainville, MA 02762
... your full-service screen printer.
From the bustling jewelry industry of the Attleboros in Massachusetts, Graphic Images printed nearly everything by hand. We soon branched out to cover many different aspects of screen printing, adding techniques, machinery and technological advances as they became available.
Today, Graphic Images prints nearly anything you could think of. We print pins and jewelry, decals, bumper stickers, posters, point-of purchase displays, signs, magnetic and vinyl truck lettering and signs. We print T-shirts, sweat-shirts, hats, banners, bags and more!
For all your screen printing needs and more, Graphic Images is here for you. With a fully-featured art department with design staff and knowledgeable customer support staff, we can develop your design from concept to finished product, or work with your existing design.
Visit us today, or call us for a quote or consult.
Quick Turnarounds
No minimum orders! 24-Hour turnaround available. Call us today.
Re-usable Golf Tournament Signs
Make your tournament the talk of the corporate coffee break with our patented Corporate Caddy Golf Ball and Golf Cart Tee Signs
Re-usable Durable 1/4" Coroplast Signs can be used from tournament to tournament.
Weatherproof Clear Plastic water tight and re-sealable sleeve fits standard letter-size (8.5" x 11") paper right out of your ink jet printer.
Print minutes before the event! Take sponsors right up to the tournament! With Our Cart and Golf Ball Signs you can easily print out the sponsor logo sign and slide it into the water proof re-sealable sleeve.
Each sign includes a heavy duty 9 gauge galvanized metal "H-stake".
Political and Advertising Site Signs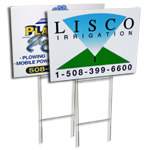 18" x 24" Durable 1/4" Coroplast signs (other sizes available on request.)
Two sided
Make sure your candidate's name is seen
Advertise on-site while you work.
Single or multiple colors
Fully customizable.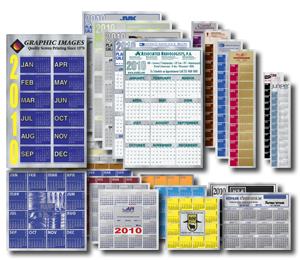 Chrome Mylar Calendars
Must be seen.
Chrome mylar provides a mirror-like finish
Customizable copy areas
Fully customizable
Impressive!